Explanation On How TikTok Works For Beginners
Introduction
TikTok is one of the most common-used applications for content creation. It is not just for people who are star-struck but also for people who want to create content for other purposes.
This post will explain how Tiktok works for beginners so that you can understand how to use this application to its fullest.
Do You Know How TikTok Works?
Getting Started
After downloading the app, users can begin to browse videos from other people. However, before you post any of your own content, you'll need to create an account to be an active member.
To make an account, you can either sign up using your valid email and phone number or connect to the site via another platform such as Google or Facebook. The app will automatically create a username if you sign up with a phone number, such as "jayne_123498765".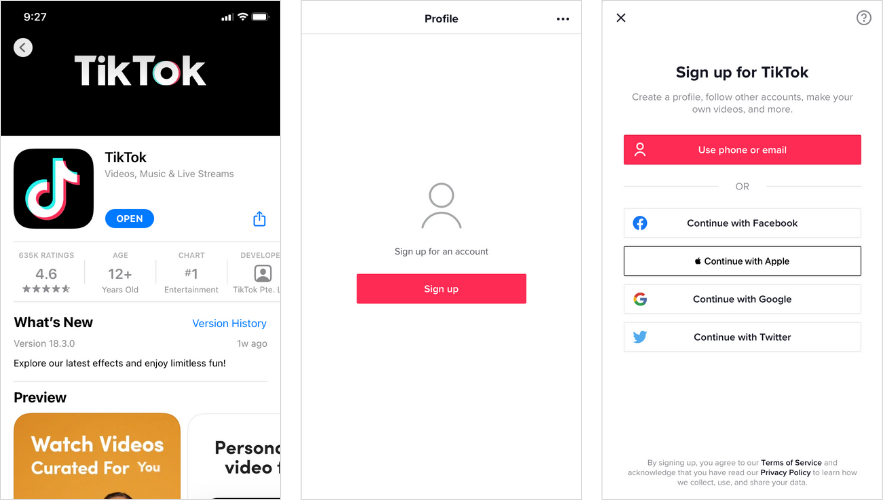 If you choose to use an email address instead, the app will usually assign you something more personalized and corresponding with that specific email.
You can change your username by tapping the button in the upper right corner of the app (it's like a person's torso). Then select Settings. Once there, go to your profile and choose to update your name, add an avatar, bio, or Profile Video.
TikTok users' profiles are by default set to public so that anyone can access them, meaning your posts will be visible and publicly available for viewing.
In order to alter the privacy settings for your profile and make it private, touch on the three dots button on the top of the profile page.
Getting Used To TikTok Interface
Let's review how to get around the platform so you can start having fun right away. There is a menu bar with five shortcuts on the bottom, and you need to know what they are:
Home: showcase feeds from the people you follow and suggested videos for you. You can switch between them to discover new content.
Discover: this shortcut displays many videos with trending hashtags.
Create Video: you can create your own content with the record screen interface.
Inbox: this section shows everything related to your videos' interactions, including hearts, comments, and a DMs section that allow you to chat.
Profile: where you and other people can see your information (if it's public).
Watching And Interacting With TikTokVideos
It's time to sit back and watch some interesting clips for a few minutes as you get our explanation on how TikTok works for beginners. So this platform actually has similarities with other social media apps like Instagram or Vine.
It's set up vertically instead of horizontally, so people share brief clips that you can interact with using "hearts". They work like "likes", so they'll tap twice on the screen if someone loves something.
The videos play immediately when you open them up in the "for you", which will show popular clips curated by the app's developers. While the "following" section will show you content from people you follow – it may be from your friends or influencers.
New content is posted daily. Swipe up to see more of them. If you're having trouble seeing all of them, tap Home to view a list. You can also try searching for videos using keywords or hashtags on the Discover shortcut.
While watching a video, tap once to pause it, and click on the user's avatar on the right-hand side of the screen to visit that user's page. You can also see the number of comments or "hearts" that the Video has or options that allow one to share it on the right corner.
Creating Videos
If you're thinking about filming a video, then it's time to visit the "Create Video" shortcut. Though it might seem easy, it's a hefty challenge that requires a tonne of creativity, especially when it comes to learning all of the available features when shooting a video on your phone.
Fortunately, suppose you find guides on YouTube. In that case, there are already many tutorial videos available to help walk the novice through the process and start filming your own videos in no time!
It's important to use popular hashtags while recording so that others can easily find and engage with your content. You can also save it to post later by selecting the "Drafts" button instead of choosing "Post" after finishing the recording.
If you have mastered normal TikToks, then let's try making duets, in which you and other users can appear on the screen and sing a song together. To do that, click on the share icon on any video and make sure to select "Duet", then the toolkit for making a duet pops up.
Other Things You Need To Know About TikTok
Music
The key to having your Video go viral on this platform is picking the perfect soundtrack. First, tap the upper right "Add A Sound" button on the screen.
You'll be presented with a streaming menu from Spotify. This allows you to browse and choose one from various top tracks or any songs you already have saved in your music library through Apple Music.
Hashtags
The hashtag is the symbol used to categorize videos, starting with #. By using hashtags, you can find videos of your interest.
Using the right hashtags also helps increase your popularity and improve your profile ranking.
Challenges
This application also has a lot of challenges associated with it. Challenges are things that TikTokers use to connect within the platform.
Most of these challenges contain sponsored content from advertisers, such as Colgate's #MakeMomSmile, and #HeyGoogleHelp. Some of the most viral organic challenges right now are #LearnSomethingNew, #Unlockit, etc.
Conclusion
So that's the end of this article on explaining how TikTok works for beginners; please remember the points mentioned above, and we are sure you will be able to use this application like a pro!
Do let us know if you have any queries about the platform or any other social media network. We're ready to help!
---
For more information, please contact AudienceGain via:
Hotline/WhatsApp: (+84)70 444 6666
Skype: admin@audiencegain.net
---